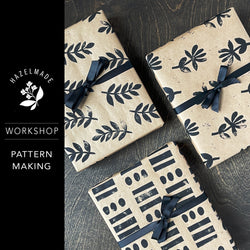 ShopHazelmade
Nov. 4th : Pattern Making + Print Your Own Wrapping Paper
SKU: WS-23-03
DATE: Saturday, Nov. 4th
TIME: 4 to 6 pm
LOCATION: Hazelmade Studio
ADDRESS: 154 N. Water St, Suite 2B, Kent, OH 44240
Learn to create patterns with pre-carved stamps. Each student will learn to create repeating patterns based on design principles, and then use the stamps provided to print their own patterned wrapping paper. All skill levels are welcome. If you are interested in carving your own stamp, please see this listing. 
Students Will Receive:
5 Full-Size Sheets of Blank Wrapping Paper
Guided Instruction
Refreshments
A Chance to Shop with 10% Off
Additional Supplies Provided: 
Pre-Carved Stamps

Brayer for Application

Ink for Printing

Gloves
Please arrive 15 minutes early; class begins promptly at 4 pm. If you are interested in this workshop but are not available for this time, I also offer private workshops for 6-8 people. Please reach out for more information. Please visit our Workshop FAQ page or email me if you have questions.
Accessibility:
The workshop will be held in our second floor studio space; there is not an elevator available. Please reach out if there is anything I can do to help make your attendance more comfortable.
What to Wear:
We will be working with permanent ink. Do not wear your nicest clothes. Please feel free to bring an apron or overshirt to protect your clothes. 
Groups:
Please email info@shopHazelmade.com if you are attending with friends. We will create assigned seating and would like to seat your group together.
COVID Policy:
If you are exposed to COVID-19 or are experiencing flu-like symptoms, please contact us as soon as possible, and we will refund your workshop fees. Please reach out if you have questions or concerns; we aim to make this workshop a safe and welcoming space for everyone involved. 
Meet Your Instructor:
This workshop will be taught by Susan Hazel Rich, owner and illustrator behind Hazelmade. Susan received her BFA from Kent State University in Visual Communication Design and has continued education through KSU's printmaking and art department. Susan's background in graphic design supplies a love of typography, clean lines, and simple design. Susan's passion for organic shapes, floral designs, and vintage themes is seen through her work under Hazelmade. Susan enjoys teaching in all settings, from workshops in her studio or community, to her partnerships with her alma mater as an adjunct professor across many disciplines.

Cancellation Policy:
Workshop fees are non-refundable. However, if something comes up or you are sick, please reach out immediately and I will do my best to work with you to find a solution. Email me at info@shopHazelmade.com
Low Registration:
Sometimes a workshop will need to cancel due to low registration. We will send an email to notify you that this is a possibility prior to cancellation. If a workshop has to be canceled, you will get an email at least 24 hours in advance. Low registration cancellations will result in either an alternate date, a refund, or a credit valid for future workshops.