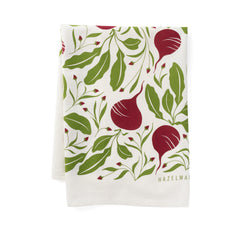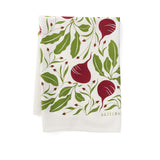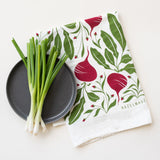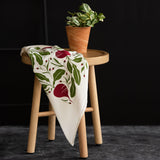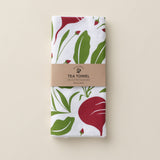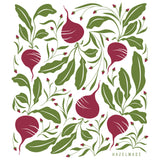 Hazelmade
Beets Tea Towel
SKU: KT707
PRODUCT DETAILS:
28" x 29" (exact size could vary due to handmade process)
100% Cotton Flour Sack
Screen Printed Design on Front (14" x 16")
Midwest Made / USA Made
CARE INSTRUCTIONS:
Machine Wash / Tumble Dry
DESIGN DETAILS:
Featuring my favorite rustic root vegetable, this towel will remind you of visiting the farmer's market or backyard garden to harvest home-grown beets. This tea towel features an original illustration hand drawn by me, Susan Hazel Rich. Each towel is sewn in the Midwest USA from the highest quality 100% cotton flour sack fabric. The flour sack material is woven with a unique fiber pattern, which provides a truly absorbent, soft and washable towel. The designs are carefully screen printed in the Midwest USA with environmentally friendly inks. Hazelmade's process includes a professional finish, which sets the ink colors to provide long-lasting color even after multiple trips through the washer and dryer. Hazelmade's towels were designed with beauty and durability in mind. They are meant to be used every day and are sure to brighten any space. My towels are intentionally designed with what is called a "drop design" rather than an edge-to-edge pattern. This signature Hazelmade style has hidden function behind it; a wide fabric border around the design creates a towel with an increased area for extra absorbency. These design motifs display best when draped over oven handles or towel racks.
MIDWEST MADE QUALITY:
This towel was designed and finished in the Hazelmade studio, located in Kent, Ohio USA. My finishing process is done entirely by hand and includes carefully inspecting each piece for exceptional quality, precisely assembling, delicately folding, and packaging. All Hazelmade tea towels are expertly sewn and professionally printed in the Midwest USA. Because of the fabric's natural whitening process, a minimal amount of colored threads may appear in our tea towels. 

PACKAGING:
Plastic Free Packaging
Folded with Kraft Paper Label with Care Instructions + Product Details
Color may vary slightly from website to the printed product
WHOLESALE + BULK ORDERS:
Copyright Hazelmade 2014-2023, All rights reserved.