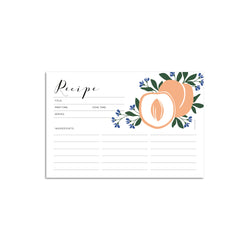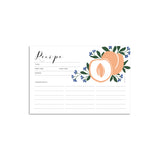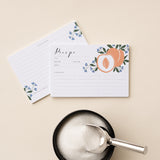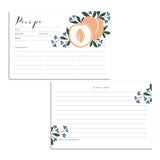 ShopHazelmade
Recipe Cards : Peaches (Set of 15)
SKU: RC801
PRODUCT DETAILS:
Set of 15 (Same design)
4" x 6" Cards
Flat Cards
White Matte Cardstock Thick Paper
USA Made
DESIGN DETAILS:
These recipe cards feature original illustrations hand drawn by me, Susan Hazel Rich. The design is printed on bright-white, ultra-thick matte cardstock paper, which was selected for its quality and durability, and offers an absorbent writing surface. The paper is manufactured in the USA with post-consumer fiber, practices that reduce pollution, and energy saving production methods. 
USA MADE QUALITY:
These recipe cards were designed and finished in the Hazelmade studio, located in Kent, Ohio USA. My finishing process is done entirely by hand and includes carefully inspecting each piece for exceptional quality, precisely assembling, delicately packaging. All Hazelmade recipe cards are professionally printed in the USA.

PACKAGING:
Clear Cellophane Protective Sleeve
Back Label Insert with Product Description
Color may vary slightly from website to the printed product
WHOLESALE + BULK ORDERS:
Copyright Hazelmade 2014-2023, All rights reserved.